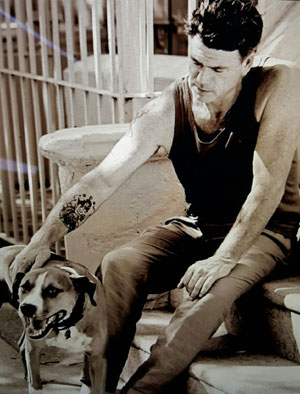 Johnny Mez and the Fat Man is a sound that was born in the Lower East Side of New York City when Johnny and Jesse Dulman met on East 7th Street to play music. Says vocalist and guitarist Johnny Mez, "I was coming out of a time of deep introspection after living in Maine for a couple years and had written some songs. I wanted to hear a horn interpret these melodies and rhythms in a direct and primal way. I had worked with horns in the past, mostly sax and trumpet, but now I was looking for a new sound, a different role for the horn, something I hadn't heard before. I found that sound in the tuba. I was moved right away by the depth and fluidity of the horn the way Jesse played and by the range of expression he displayed."
"We played a few gigs as a duo before adding flautist Keswarin Tetwanich who added dimension to the sound. The dynamic was both direct and ethereal. When we were on, the sound was great, but without bass or drums at times it got away from us. Keswarin returned to Thailand and we added drummer and percussionist Bruce Mack. Bruce introduced us to the Udu, a Nigerian gourd drum, which perfectly complemented our sound. He could play a repeating bass part with one hand and add accents and polyrhythms with the other. The effect was pure magic and completed the primal sound I was trying to achieve."
"We gigged in New York playing mostly in rock venues and had some memorable shows. At times we had problems with the sound but I knew we could get great results in the studio. After some research I found a studio in the Lower East Side with a 2 inch tape machine a killer board and lots of incredible vintage microphones. I took us in to burn a few tunes to tape and loved the sound though I could see it would be a challenge to produce a full length record to analog tape."
"Next I concentrated on recording my acoustic guitar. Since I wasn't using bass on the record, I recorded the guitar with 2 or 3 mics capturing different frequencies with each for a full rich omnipresent guitar sound that you can feel in the body. I used a different arrangement for each song and brought in singer Anna Whitely, Cajun Accordian player Jonathan Larkin provides on Frankie and Name of the Song. Horn players Clark Gayton, Lawrence Clark and Jason Candler are all great NY jazz players and added a lot to this record. Lee Jaffee who played harmonica on Marley's Natty Dread album steps in to accompany Johnny on Blue ballad Try."
The rich analogue sound of this record along with great songs and stripped down original arrangements set this record apart, just like the title cut Inner City Hero. Though its not the most commercial sounding release, there is no doubt that musicians and aficionados of acoustic folk, jazz and roots will appreciate this record.